If you are tired of your same old interior designs, maybe it's for you to spice things up. Here are some easy ways to overhaul your home interiors. Here are some easy ways to zhoosh up your home. Don't fret. There's no need to call in a professional interior designer to create wonders in your home. All you need is nerve and imagination, and anything is possible to achieve.
There are different ways to spruce up your home. The first thing you need to know the space that you are working with, especially if you are working with limited space. However, limited does not mean you can do less with your interior. All it takes is to be smart about your choices.
Add more mirrors in your homes.
If your home is not that spacious, there is a way to create an illusion of a bigger space. All you need is to add mirrors strategically in your homes. Adding mirrors can create an illusion that your home is spacious. For example, if you are living in a condo or a studio apartment, you can have a wall of mirror placed adjacent to the dining or living area.
Putting mirrors in the right place is crucial. Placing it opposite a window allows light to bounce off the window. This makes the room brighter and lighter feel. Aside from walls, you can place mirrors at the back of a door or on closet doors.
It is also great in providing a focal point for every home. If a wall is bare, hang a mirror and it can already be an eyecatcher piece in any room. You can also experiment with different shapes and sizes for mirrors. This will definitely add more to the interest of your home interior.
Add a statement piece.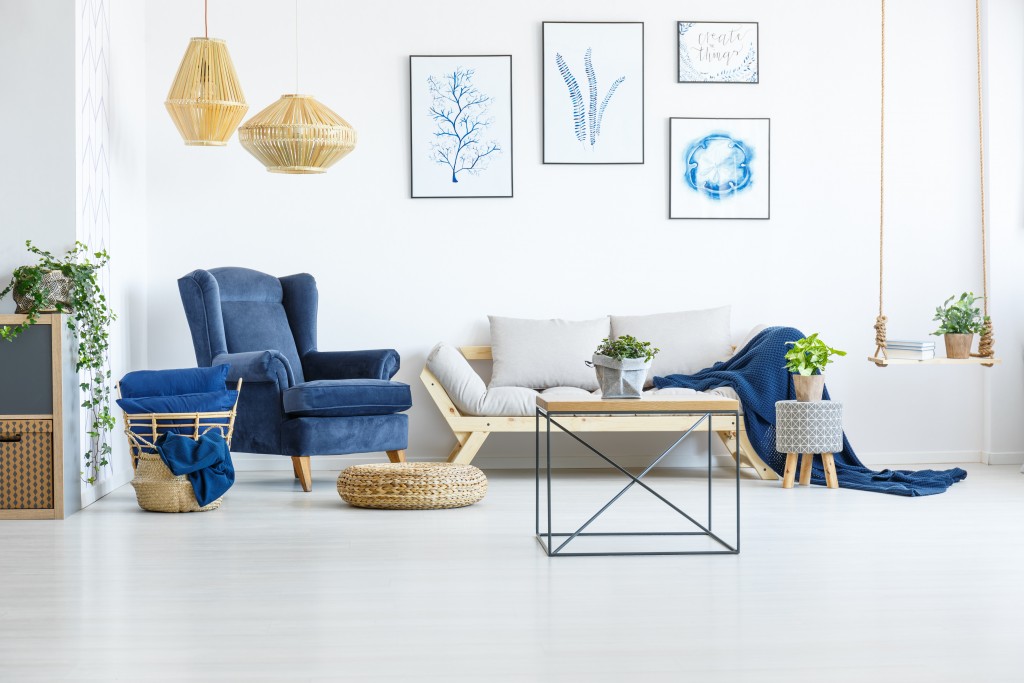 Most of the time, what your home needs is just a statement piece that can serve as the center of conversation among your guests. Adding odd and interesting pieces is also an easy way to add character to any space.
If totally overhauling your room décor to achieve a bohemian look is scary to you, you can always just a single piece that draws everything in. For example, you can something traditional or antique in a very modern and chic interior theme. This will provide a contrast with the elegance and chicness of modern design. Remember, the goal is to make this statement stand out among the rest. Thus, providing a contrast will be a great way to elevate it from the background.
The best attitude in placing a statement piece in your home is ditching the idea of perfectly matching pieces. Having pieces that go well together can have a clean-cut effect, but they tend to be boring as well. Nothing screams tired than monochrome colors and pieces of furniture bought as a set. If you want to zig instead of zag, you must look for inventive ways of perfectly mismatched home décor.
Think of multiple sources of light.
Lighting in any room can work wonders. It can lift the ambiance of the space instantly. It can even change the mood of the whole place. Each room may need a different kind of lighting depending on the purpose that it will serve. For example, a living room must have welcoming and bright lighting. Aside from the above head lighting fixtures, you can also add more lighting with table lamps.
Having a big window also lets so much natural lighting in your space. You can also experiment with draperies and curtains to filter in the amount of natural light that comes in.
Overall, defining the purpose of your space can help you in the kind of lighting that you need. Chandeliers and lamps are great but if you placed them for aesthetic purposes only, then you may need to rethink their necessity in your space. It is better to fit the design with the need and purpose of the place.
Adding patterns.
Some people are afraid of playing with patterns when it comes to the interior. There's no reason to be worried about adding them to any place in your home as long as you know how to do it properly. You can experiment with rugs or carpets with beautiful bohemian patterns. You can even use a pillowcase or buy a chic ottoman to add a striking pattern to your living area. Aside from these, you can add wallpaper with patterns or hang an art piece to add that wow factor.
Homes are a place of comfort and relaxation. But you can do so much more with it using your creativity and vision. You need not go to professional designers to make changes in your home. If you have a vision and an idea, it's easy to make these beautiful changes.