Becoming a mom for the first time isn't easy, and at times, it can get downright weird. After you give birth and enter your postpartum period, your weight fluctuates, your body changes, and at times, you don't feel like yourself. Not only that, but you're also preoccupied with the needs of your precious newborn that you often forget to take care of your own needs.
With all these things keeping our minds occupied, it's no surprise that we often forget to do the things we used to do, like keep ourselves looking stylish. Don't worry because we're here to help you get better accustomed to motherhood in style.
Wrap Clothing Makes for Easier Breast Feeding
In the colder months, you may find it hard to nurse your newborn while you're covered up in a thick coat and turtleneck sweaters. Wrap clothing like wrap sweaters, on the other hand, are easy to wear. All you have to is place one side on top of the other and tie the belt around your waist like a bathrobe. Once you try wearing one, you'll realize why it's a staple piece in new moms' wardrobes. Wrap clothing also comes in cardigans made of lighter material, making them a great choice for wearing on top of a camisole or spaghetti strap during summer.
Leggings Can Go a Long Way
When it comes to maternity or even postpartum clothes, comfort is the priority. Leggings provide just that. What's not to love about a good pair of leggings? They're stretchy, comfortable, and go with various tops, making them an essential part of one's wardrobe, new mom or not. However, finding the perfect pair can be difficult. When going shopping for leggings, make sure that they look and feel good. They should have a high waistband, are stretchable enough for you to move around comfortably, and support your belly.
Tote Bags Hold Everything You Need
Whether you like them or not, all moms need nappy bags. They're a great way to store everything your baby might need, from diapers to baby formula to pacifiers. Unfortunately, they're not very fashion-forward. You can use tote bags, small backpacks, or even cross-body bags to store both your and your baby's items safely. Just like nappy bags, they also give you the freedom to rummage through your bag with one hand while holding your baby in your arm.
Cool Down with a Button Down
Just like wrap clothing, button-down clothing gives your newborn easier access to you and makes breastfeeding much, much easier. All you need to do is pop out a few buttons. Afterward, you can button your shirt back up, and it will be like nothing even happened.
Radiate Elegance with a Nice Dress
If leggings aren't your style, you might prefer comfortable dresses instead. These days, dresses are available in different colors and styles for moms who need to breastfeed their babies. These dresses often come with a hidden slit or zipper in the bodice that you can use when you need to nurse.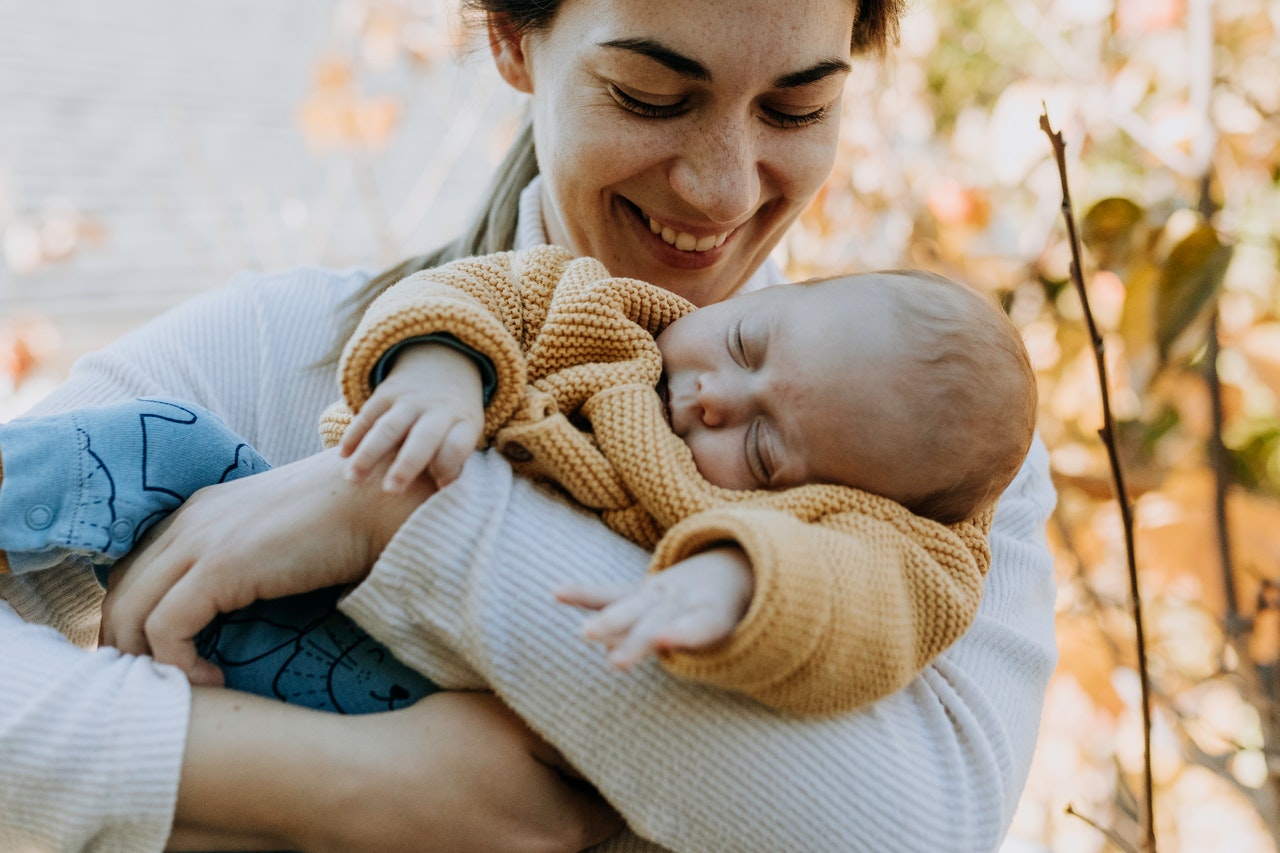 Become a Fashion Duo with Matching Clothes for You and Your Newborn
One is never too young to be fashionable. Whether you have a baby boy or baby girl, you can stop by a store that offers clothing for newborns and see what pieces they have that can go with your everyday outfits. Not only will you two be 'gram-ready, but you'll also have cute sets of outfits you can dress your bundle of joy with whenever you want.
Tune-Up or Tone Down Your Style with a Good Tunic
Another wardrobe staple for new moms is the tunic. Like maxi dresses and wrap clothing, they're effortless to wear and are versatile when it comes to styling. You can dress up with a few accessories and a nice, comfortable pair of shoes, or tone down your look with a pair of jeans or leggings. They're a great option as maternity clothes, and you'll be able to wear them even after you go through your postpartum period.
Give Your Feet a Rest with Comfortable Shoes
One of the most important things that new moms need to keep their outfits cohesive is a good pair of shoes. After you give birth, you're likely to experience postpartum swelling in your feet, which is caused by an excess amount of fluid that remains in your body tissue for a period. While you can't sport those 9-inch heels just yet, consider investing in a pair of alpargatas that are lightweight, comfortable, and support your feet.
Motherhood is a full-time job, but it's important to remember that you also need to take care of yourself to do that job properly. Even a small treat for yourself, like wearing a nice and comfortable outfit, can make all the difference, so consider these style essentials that will help you slay the runway and being a new mom!