Bracelets are a common choice for men who like to wear jewelry and accessories with their attires. However, bracelets are accessories that must be chosen carefully so that it suits you, your skin type, and your dressing choices. So, how does a bracelet impact the fashion of men and what are the choices?
How a Bracelet Affects Men's Styling
So what would be the reason behind choosing a bracelet as your favored accessory? The simplest answer is common to other accessories. It is chosen as a favored piece of jewelry like any other accessory such as necklaces, rings, chains, or watches. Men can even wear bracelets with watches since both of them have a different effect on the overall look. Anyways, the work of a good bracelet is to be an accent to be noticed throughout your style. It is not something that is going to the center of attraction on your look but it is definitely something that will add a decent finish to your look.
The kind of bracelet that you must wear depends on the overall look and the attires or dressing choices. If you're the formal person with a suit and tie whenever you step out of the door, a metallic and chromatic can be an excellent choice. On the other hand, if your clothes tend to have comfort, with casual shirts and track pants, your look will surely be accentuated with the use of leather, rope, beads, or rubber bracelets that look rough and match the adventurous outfit that you like.
Types of Bracelets for Men
Men's jewelry and especially bracelets are easily distinguishable from female accessories. Anything with too much shine, or very less volume, with a lot of stonework, is something that is feminine in look, and the men who'd wear something like that, well!
However, there are various choices for men in bracelets, and you can choose from the below categories to suit your look.
1. Broad Metal Bands
Metal bands are the most common bracelet types for the working man. Most likely, this kind of bracelet is seen along with fancy and elegant suits. There are a number of choices in this category however, most of them will have a masculine and uncluttered look that will add a bit of flash to the excellent fabric on the suit. A singular color of metal works just fine but if you want design, don't go for more than two colored metals. Slide them on your wrist and let it shine from below your cuffs.
2. Strings and Rope Cords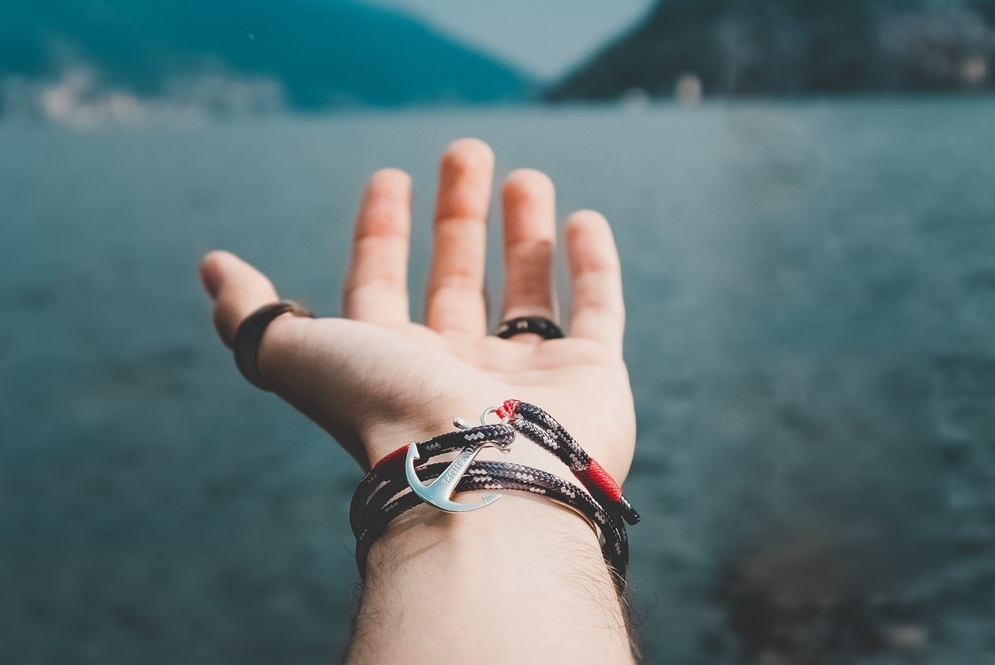 The opposite of elegance and negligence, or you can say, the rebellious nature. In contrast to suits, metal bands won't be a good idea on beach tees. Hence, the rope and string cords. Some rope cords are decorated with knots, and some are just woven strings. Anyways, it can be used with variety, increasing or decreasing the number of rope bands on your wrist. If you're wearing thin strands, it is good to stack them in numbers and use a monochrome.
3. Silicone Bracelets
Silicone bracelets are a famous and cheap alternative to rope and leather bracelets. They can be made in any color, they have different designs, shapes, and thicknesses. You can either have a good silicone and metal tag bracelet or have stackable bracelets that look great on colored attires and funky looks. It is the best choice for people who want to be in and out of having an accessory on their wrists.
4. I.D. Bracelets
Originally issued to soldiers in World War 2, these bracelets have caught the eye of the common people and have amassed huge popularity. The bracelets consist of a thin metal chain attached to a centered rectangular plate. The plate was originally engraved with personal details such as the initials of the person, blood group, or other vital information that could help identify the individual. I.D.bracelets can be used for the same function today, but have become more of a style statement as they provide a classic, elegant look when worn with denim jeans and a leather jacket.
Whatever a man's dressing choices be, a bracelet plays the same role in everyone's fashion drama. It is to make sure that the look is to give prominence to every look. A well-suited bracelet makes it clear for everyone that the way you look is how you're supposed to be and that you are real. You're not putting on the witty t-shirt designs for fun but you're your best self when your attire is complete. And that's why you add a good bracelet to make sure you look complete.