A living room is perhaps the most important room in the house, as it's where you entertain guests and spend time with your loved ones. It reflects you and your family's personality, so everyone should feel welcome as they walk in the room.
But decorating the living room can be overwhelming. It's a struggle to spend hours to develop your room's vibe and search for furniture pieces. In the UK it's easy to search for sofas online as well as physical stores but it's still a challenge determining your living room's layout. You want your home to feel inviting, but you also want to avoid clutter.
To help you maximise your space, here are common layout mistakes people make and how to fix them.
Placing Furniture Against the Wall
The most common mistake people make is placing furniture against the wall. There's a misconception that it will make your room look bigger, but it actually creates dead space in the centre of the room.
Pulling furniture away from the walls creates a better sense of balance. Arranging your couches and chairs as a conversation area will make the room more inviting. Also, bringing your couch and chairs away from the wall creates enough space for people to walk by.
Wrong Furniture Size
Many people fill their rooms with furniture that's too big or chunky for the space. This makes the room look and feel smaller. It helps to draw out a floor plan and determine a flow of how people will walk in and sit down.
Afterwards, scale your furniture according to the size and flow of the room. If you have a huge sofa, add chairs with slimline arms. When buying furniture, opt for smaller pieces to alternate with larger furniture. This will give your living room a consistent look without overwhelming it with large pieces.
Placing Too Much Furniture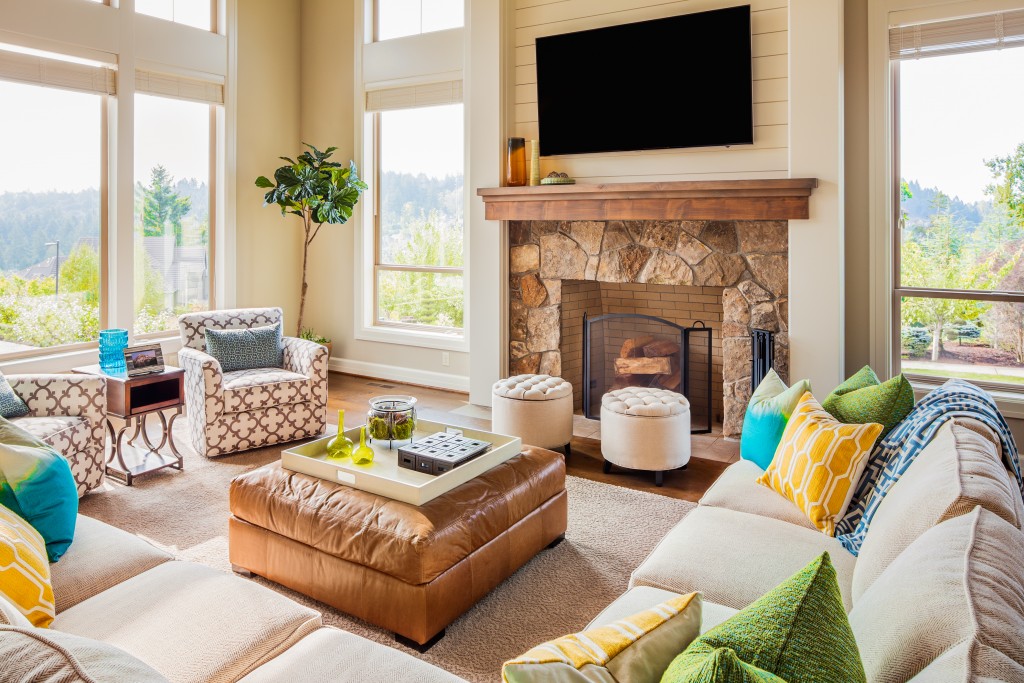 Another big mistake made by homeowners is placing too much furniture in a room. This restricts the space and makes it difficult for people to move around. A room filled with furniture also gives a cluttered feel.
The best solution is to place only a few pieces in a living room. Start with a key piece and build around it. For example, add one chair and one small side table next to a large sofa. This will create balance in the room and allow for a sense of flow.
Blocking Windows
Natural light brings many health benefits, and it also makes a room look bigger, cleaner and more spacious. As a general rule, avoid putting furniture in front of windows. But if you absolutely must, maximise the remaining natural light by using mirrors and a smart lighting plan.
Matching Furniture Sets
Furniture sets with matching colours used to be a common sight in many homes in the past. Now, it's an out-of-date look that's more likely to leave your living room feeling flat.
Mixing and matching furniture, textures and colours will help make your living room more attractive. Place a pair of sofas across from one another and throw in a coffee table with a different design in the middle. If you already have a matching furniture set, add decorative objects like pillows or blankets to differentiate each piece from another.
Mistakes are easy to make, especially when arranging furniture. By knowing where to place your furniture, you'll be able to organise a living room that's airy and inviting for everyone who comes to your house.